Court Interpreters
Court Interpreters/Translators

Provincial Secretariat for Education, Regulations, Administration and National Minorities – National Communities is in charge of appointing, discharging and keeping the Register of Court Interpreters for the area of higher courts in the territory of AP Vojvodina.
Upon assessing the demand for court interpreters/translators and sign language, deaf and mute court interpreters, presidents of higher courts in the territory of AP Vojvodina file proposals for issuing the advertisement for appointment of court interpreters/translators and sign language, deaf and mute court interpreters.

Request for the advertisement (The document is currently available in the Serbian language only)

Based on the filed requests, an advertisement is announced at least once a year (in September/December) for appointing court interpreters/court translators and sign language, deaf and mute court interpreters in the "Official Journal of AP Vojvodina", one of the print media in AP Vojvodina and on this website.

Any person with university education who has met the statutory requirements for employment as a civil servant, with residence in the territory of AP Vojvodina may apply, providing they have also met the following requirements:
1) they must have: the appropriate university education for a particular foreign language or full command of the language from which and into which the spoken or written text is translated/interpreted;
2) knowledge of legal terminology used in the language from or into which it is translated/interpreted;
3) at least five years of experience in the translation/interpretation profession.
Along with the application, the applicant is required to submit the original or certified photocopies of the evidence of meeting the general and specific conditions listed in the advertisement text, which must be certified by the notary public or municipal administration in which notary public has not been appointed.

The applications may be sent by mail or directly at the Records and Filing Office.

Pursuant to the Law on Republic Administrative Fees, tariff number 1, applicants shall be required pay the republic administrative fee of 900.00 RSD when applying.

Applying for advertisement for appointment of court interpreters/translators and sign language, deaf and mute court interpreters (The document is currently available in the Serbian language only)

Postal money order for the republic administrative fee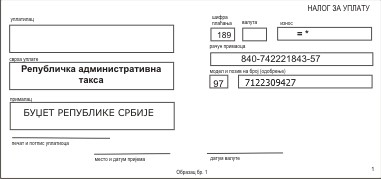 Provincial Secretariat for Education, Regulations, Administration and National Minorities – National Communities organizes the examination to test the knowledge for applicants residing in the territory of AP Vojvodina, and in this regard the Provincial Secretary establishes committees, which are to verify:

1) whether the applicant who does not have the appropriate university education for a particular foreign language has full command of the language from which and into which the spoken or written text is translated/interpreted;
2) whether the candidate has the knowledge of legal terminology used in the language from which and into which it is translated/interpreted.

The examination consists of a written and oral part. Applicants who take language examinations will be informed on the examination date and the required fee.

Postal money order for reimbursement of language examination costs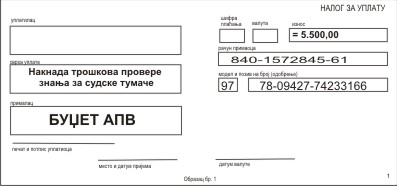 The language examination fee must be paid no later than three days before the examination, and the proof of payment is to be submitted to the Secretary of the Committee.
Upon completing the process of examination, by way of a decision, the Provincial Secretary will appoint court interpreters/court translators and sign language, deaf and mute court interpreters.
Register of court interpreters in the territory of the AP Vojvodina contains the following data (surname, name of one parent and name of the interpreter; profession, address and telephone number, number and date of the decision on appointment, language for which they are appointed, date and place of oath taking ceremony, number and date of the decision on discharging the interpreter and a note). In case of any changes of data, the appointed interpreter will be required to notify the Provincial Secretariat thereof, within eight days of the date of change.

Request for entry/data change (The document is currently available in the Serbian language only)

Pursuant to the Law on Republic Administrative Fees, tariff number 25, when filing a request for entry/change of data in the Register of Court Interpreters, applicants shall be required pay the 840.00 RSD fee.

Postal money order for entry/change of data in the Register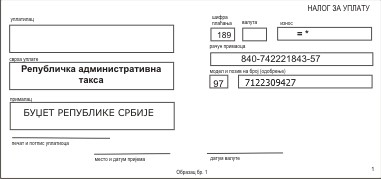 The work of translators/interpreters is supervised by the president of the higher court to which the translator/ interpreter is appointed.
The translator/interpreter will be discharged: if they personally request so, if it is established that the requirements for appointment did not exist or have ceased to exist, if they are convicted of a criminal offense which makes them unworthy or unfit for the job of an interpreter, if their legal capacity is revoked or restricted by way of a court decision, if it is legally established that they had lost the ability to work and if they perform interpreter's duties in a negligent or unprofessional manner.

For all information please contact the following persons:
Ankica Jukić – Mandić – Deputy Secretary of the Court Interpretors' Examination Committee
Office I/68; Telephone number: 021/487 4213;
e-mail: ankica.jukic@vojvodina.gov.rs

Jovana Mitrovic
Office: I/68; Telephone number: 021/487 4552;
e-mail: jovana.mitrovic@vojvodina.gov.rs

Rulebook on Court Interpreters ("Official Gazette of the RS", No. 35/2010, 80/2016 and 7/2017) (The document is currently available in the Serbian language only)

Official Records

All nominal words, used in this text in the masculine gender, which have a feminine gender, imply the same nominal words in the feminine gender.
03.03.2022